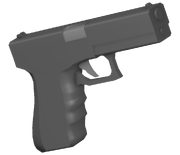 Weapons are a type of item used to fight and defend oneself from members of enemy teams, and, to a lesser extent, as a utility. Most weapons can be equipped by members of any team with the exception of certain tools exclusive to the police as well as items specific to a game pass the player in question does not own.
Almost every melee weapon functions identically, meanwhile ranged weapons vary and occupy different inventory slots. Players can only have one of each weapon type, for example, the Deagle and TEC-9 are considered tertiary weapons, meaning the player cannot have two at one time. Most weapons have a magazine size although their ammunition is infinite.
Acquiring
Most weapons can be equipped at the Gun Shop and the various Team Bases. Most of these are free, excluding the M32 and Tear Gas which are purchased with Cash. Others are locked behind game passes, although once their respective game passes are purchased, they are treated like normal, free weapons.
Special Weapons
There is an exclusive selection of weapons available through Crates. While they are free, they are relatively elusive as the player must wait for one to spawn before locating and interacting with it. The Death Ray is acquired via the Golden Key. Previously, the Egg Grenade Launcher was hidden in a cave on a floating island located in Easter Isle and was removed due to the destruction of Easter Isle, the Lazerblade was located in a crate in the Military Base and was removed due to the Cargo Planes revamp, and the Frost Gun is located in the Jewelry Store and is currently unobtainable with the removal of the the tree which gave Crystals.
Hipfire
In the February 25th, 2020 update, combat has been overhauled and a new "hipfire" mechanic has been added, eliminating the forced zoom mechanic. When selecting a ranged weapon, the player's camera is locked to the center of the screen, allowing the player to fire the weapon by left-clicking without inhibited movement or scope at the cost of accuracy. Players may still utilize zoom by right-clicking and holding with a ranged weapon.
Weapons
Trivia
Projectile weapons are affected by gravity reduction command and will float in an upward curve.
If the finishing blow is dealt using a melee weapon, the player will be instantly killed instead of being downed.